Thursday 28 June 2012

American Family Insurance Amphitheater
Foo Fighters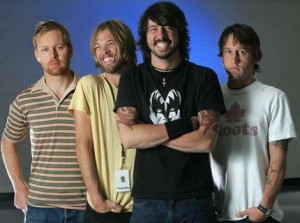 Formed by Dave Grohl in 1995 in the wake of Nirvana, Grohl formed the group originally as a one-man project. Drafting Nate Mendel, William Goldsmith and Pat Smear to complete the group the Foo Fighters quickly became a 4-piece.
Grohl occupied himself during Nirvana's tours by learning guitar and writing songs but kept the songs to himself as he toured out of awe and intimidation of Kurt Cobain. Occasionally booking studio time, a few demos were recorded to cassette and a portion of those songs were released on an album of sorts called Pocketwatch under relative anonymity in 1992, 2 years before the death of Kurt.
The Foo Fighters played their debut show at a party in February 1995. Refusing to do interviews or tour large venues to promote the album. They undertook their first tour in 1995, opening for Mike Watt and releasing their first single, This Is A Call", later that same year in June.