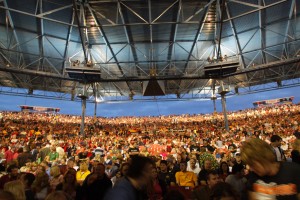 The Marcus Amphitheater in Wisconsin hosts the Milwaukee Summerfest, the worlds largest festival! As well as Summerfest the amphitheater plays host to a variety of concerts and events during the spring, summer and fall!
Located in Milwaukee, the largest city in the state of Wisconsin, and the 28th most populace city in the USA, the venue is able to host some of the largest crowds, safely, that you're likely to encounter!
The Summerfest lasts for 11 days, is made up of 11 stages and tends to host over 700 bands. Running since the mid-1970s it runs through early Julyincluding the 4th of July holiday celebrations!
The Summerfest festival was inspired by the then Mayor's visit to the Oktoberfest in Munic in the 1960s. The Mayor envisioned a themed festival in Milwaukee, and formed a group of local business and civic leaders to draw up a proposal for the multi day event! Originally named the "Milwaukee World Festival" it was changed briefly in 1966 to Juli Spaß (German for "July Fun") and then finally to Summerfest.
Located at the south side of the Henry Maier Festival Park aka the Summerfest grounds, the Marcus Amphitheater was built for crowds of up to 25,000 after an extremely overcrowded concert in 1984 with funding from the Marcus Corporation. Eventually completed in 1987 the venue has hosted the likes of Bob Dylan and other big names like the Foo Fighters.